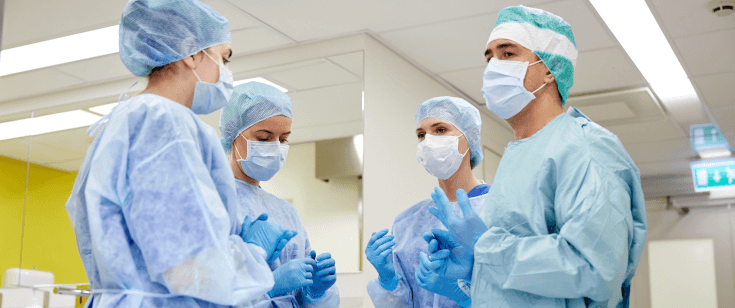 Surgeons: Do You Need a Second Opinion on Your Financial Plan?
It's common practice for your patients to get a second opinion before agreeing to a particular procedure or surgery.
As a surgeon, what's appropriate for your patients may be equally good for you. It could be time for you to get a second opinion on your financial health. Doing so may help you determine whether you're doing the best to protect yourself and your family financially and to prepare for a comfortable retirement.
5 Reasons You Might Want a Second Opinion
Through the years, your financial situation changes. A second opinion can help ensure that your financial, retirement and estate planning are appropriate based on your age, earning capacity and family needs.
Getting a second opinion will:
Increase Your Financial Knowledge: In today's complex financial landscape, it's helpful to know your options. Consulting with other professionals will expand your knowledge and allow you to put your plan into a broader perspective. Even if you decide to leave everything the same, you'll be better equipped to discuss issues with your current advisor.
Enable You to Evaluate Multiple Sources of Advice: It's not always easy to select the right source for financial advice. In addition to financial advisors, there are insurance agents, CPAs, broker-dealers, wirehouses and even attorneys who are selling investments, insurance and advice.

When seeking advice, be aware that designations, such as Certified Financial Planners (CFP), are not endorsements. Make sure you are working with a fiduciary committed to putting your financial best interests first—not a salesperson.
Gain Insight into Your Current Plan: Speaking with more than one financial expert provides additional insight to evaluate your current plan. If you feel comfortable with an advisor after your first meeting, you may want to have them evaluate your plan. Depending on how the advisor works, you may receive a free top-line assessment or need to pay for a comprehensive written evaluation.
Explore Other Options: When you consult with other advisors or financial professionals, you open the door to exploring options. For example, you could discuss your current tax situation, what to expect during retirement as you begin to withdraw money from tax-deferred accounts, and what you can do to ensure you keep more of your money. Or you may want to discuss the role of insurance (e.g., life, disability and long-term care) in your financial planning.
Put Your Current Advisor on Notice: It's no secret that people who have financial advisors often seek other advice. Letting your financial advisor know that you're consulting others may help keep your current advisor on his or her toes and your fees competitive.
How to Find a Second Opinion
If you want a second opinion but don't know where to start, consider attending a few free seminars in your area. Financial advisors, insurance agents and estate-planning attorneys often hold events as part of their marketing efforts.
Sometimes the topics are generic, but more often, the focus is on a particular issue, such as Social Security planning or taxes in retirement. The goal is to provide information that captures your interest and encourages you to make an appointment for a consultation.
Alternatively, you can contact the financial professional directly and make an appointment. While initial consultations are usually free, if you want a written plan and specific course of action, you should expect to pay an hourly or flat fee for the service. You can share the information provided with your current advisor and incorporate some of the recommendations into your existing plan.
Questions You Can Ask
Here are some questions you might want to ask at your consultation:
What do you consider your primary area(s) of specialization and expertise? In what ways are you different from my current advisor?
Do you have people in the office with other areas of expertise?
If you're speaking with a financial advisor, you might want to ask: Who covers insurance? Are they equipped to offer advice on life insurance and annuities as well as disability and long-term care?
Who can advise on tax strategies?
How will I be charged? You want to know all the fees and whether you'll be paying an hourly rate, flat fee, commission or some combination of commission and fees.
Do You Need More Than One Advisor?
After speaking with several experts, you may conclude that you need several advisors. While most financial professionals will discourage this approach—too many cooks in your financial kitchen—there may be times when it makes sense. Even if you're happy with your advisor, you may feel that you need a designated tax planner, stockbroker, estate planner and insurance agent.
If you opt for more than one financial expert, it helps to decide who is in charge. Should you designate one advisor as the lead, make that clear to everyone on your team. Or, if you want to be more actively engaged, you can take on that role yourself. But as a busy surgeon, consider whether you really want to spend time managing a team of financial advisors.
Getting a second opinion can improve your current financial plan, secure a better future and increase your financial knowledge.